Karen Myers-Bowman, Interim Dean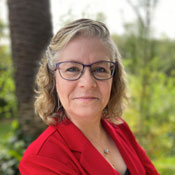 Global Campus
Karen Myers-Bowman, Interim Dean
Dr. Karen S. Myers-Bowman is a family scientist specializing in family life education. Her research interests include parent-child communication – especially about difficult topics such as war/peace and sexuality; families across cultures; human sexuality and sexuality education; qualitative research methodologies; and effective teaching methodologies. She has published her work in journals such as Family Relations, Child Welfare, Journal of Family Theory and Review, Peace and Conflict: Journal of Peace Psychology, Feminist Teacher, Early Childhood Education Journal, and Health Care for Women International.
Dr. Myers-Bowman received her MS and PhD in Child Development and Family Studies at Purdue University. She served as a faculty member in the Department of Child Development and Family Science at North Dakota State University in Fargo, ND from 1994-1998. She then moved straight south to Manhattan, KS and held a faculty position in the School of Family Studies and Human Services from 1998-2017. She joined the faculty at SDSU in 2017.
Dr. Myers-Bowman has served in many leadership roles throughout her career. She came to SDSU as the Chair of the Department of Child and Family Development and held that position until becoming the Senior Associate Dean in the College of Education in January 2019. Before joining SDSU, she provided leadership in many capacities while at Kansas State. Most notably, she served as the unit/program leader for Family Studies/Family Life Education and Consultation continually from 1999 through 2015 in the School of Family Studies and Human Services. In this capacity, she directed both undergraduate and graduate (MS and PhD) programs, with averages of 600 and 100 students enrolled respectively. She also chaired the Task Force for General Education that led to the creation of a new GE program for the campus of over 20,000 undergraduates, the K-State 8. Dr. Myers-Bowman also has provided leadership within the National Council on Family Relations in many capacities over the last several decades.
Karen grew up in Elgin, Illinois, a suburb of Chicago. She met her husband (Clay Myers-Bowman) while they were students at Manchester College in North Manchester, Indiana. They have two adult sons and have hosted 10 year-long high school exchange students from around the world. She enjoys spending time with her family, traveling, music, theater, movies, reading, and social events.