Dr. William Tong is the current Interim Provost at San Diego State University. Bill received his Ph.D. in Chemistry in 1984 from Iowa State University and worked at the Ames Laboratory, U.S. Department of Energy. He joined San Diego State University in 1985 as an associate professor after his postdoctoral research at the Oak Ridge National Laboratory, U.S. Department of Energy. In 1989, he was promoted to professor at SDSU. He has mentored more than 50 Ph.D. (University of California San Diego and San Diego State) and Master's students and many more postdoctoral students, visiting scientists/professors, and undergraduate research students in his laser laboratory.
He was named the 2003 Distinguished Scientist of the Year by the American Chemical Society (San Diego region). He received the Albert Johnson University Research Award, SDSU's top research award, and he was named Distinguished Professor of Chemistry and Biochemistry in 2005. He also received the 2017 SDSU Faculty Diversity Award, the 2005 Distinguished Achievement Award from the Sigma Xi Research Society, the 2008 SDSU President Leadership Award, and the 2002 SDSU Technology Innovation Award.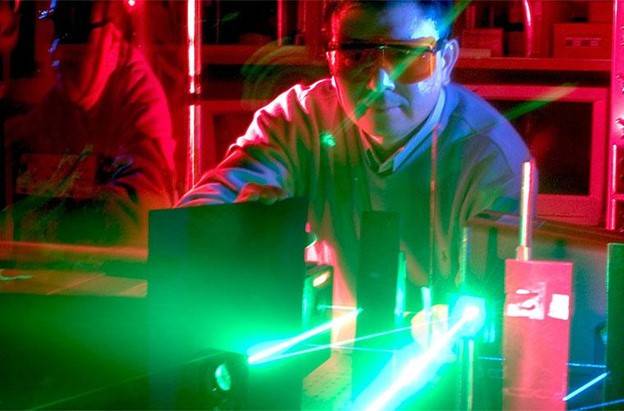 He has been awarded major grants by the National Science Foundation, National Institutes of Health (R01), National Institute of General Medical Sciences, U.S. Department of Defense, U.S. Department of Homeland Security, U.S. Army Research Office, and other federal funding agencies. He holds patents on nonlinear multi-photon laser spectroscopic methods. He serves on NIH study sections and NSF, DOE and NASA review panels and reviews for peer-reviewed research journals. He founded a laser technology company in La Jolla, California, for U.S. security projects.
Bill Tong has developed novel nonlinear multi-photon laser methods for chemical analysis with zeptomole-level (10-21 mole) or sub-parts-per-quadrillion-level detection sensitivity for a wide range of areas including biomedical, environmental, and security applications. His novel laser methods offer better detection sensitivity levels for molecules in their native form without using tags or labels. Picoliter-level probe volumes offer effective interfacing to sensors, microchannels, microarrays, lab-on-a-chip, and microfluidic devices. Potential applications of his ultrasensitive laser methods include earlier detection of diseases (Parkinson's, Alzheimer's, Multiple Sclerosis, heart failure, etc.), more sensitive detection of biomarkers, cancer cells, and viruses (HPV, HIV), better design of cleaner drugs, more sensitive detection of pollutants both inside the human body and in the environment, remote standoff detection of chem/bio agents, and authentication of paintings and art objects.
Contact Us
Main Office
(619) 594-6881
Grace Laurie
Executive Assistant to the Provost & Senior Vice President
(619) 594-6882
[email protected]
Sophia Williams
Administrative Coordinator to the Provost & Senior Vice President
(619) 594-6881
[email protected]