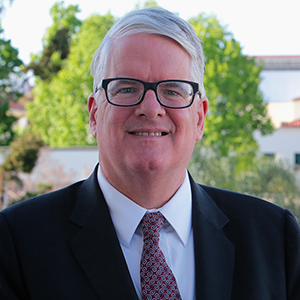 College of Sciences
Jeffrey Roberts, Dean
Jeffrey Roberts was born in California and completed his undergraduate studies there, first at Santa Rosa Junior College and then at the University of California, Berkeley, where he earned a BS in Chemistry in 1982. He earned a PhD in Chemistry from Harvard University in 1988, after which he was a post-doctoral associate in the Department of Chemical Engineering at Stanford University for two years. He joined the University of Minnesota as an Assistant Professor in 1990, and was promoted to Associate Professor in 1996 and Professor in 2003.
He served as Chair of the Department of Chemistry from 2005-09. In 2009, he moved to Purdue University, where he served as Frederick L. Hovde Dean of Science until 2017. He is currently Dean of the College of Sciences and Professor of Chemistry at San Diego State University.
Prof. Roberts has authored or co-authored over 100 peer-reviewed papers, as well as several book chapters and monographs. Prof. Roberts is the recipient of several awards, including a Special Creativity Award from the National Science Foundation (2003) and a Sloan Fellowship (1996). He was elected a Fellow of the American Association for the Advancement of Science in 2008. His current research interests focus on aerosol surface chemistry.
Education
B.S., University of California, Berkeley, Chemistry, 1982.
Ph.D., Harvard University, Chemistry, 1988.
Research Interests:
Aerosol Chemistry
Surface modification of aerosol nanoparticles for materials applications.
Surface processing and chemistry of combustion particles.
Aerosol-based methods for nanoparticle coating.