Tracy Love, Graduate Dean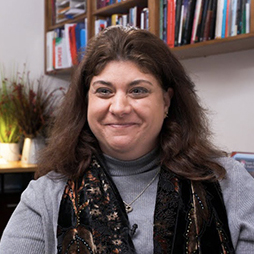 College of Graduate Studies
Tracy Love, Graduate Dean
Dr. Tracy Love is the Inaugural Dean of the College of Graduate Studies at San Diego State University and a Professor in the School of Speech, Language, and Hearing Sciences. She earned her bachelor's degree in psychology from Brandeis University and her masters and doctorate in cognitive psychology/neurolinguistics from the University of California San Diego. She completed an NIH postdoctoral fellowship at the University of Arizona, Tucson's Center for Neurogenics and Communicative Disorders before working as a Research Scientist at UC San Diego.
Dr. Love joined the SDSU faculty and became a doctoral faculty member in the SDSU/UCSD Joint Doctoral Program in Language and Communicative Disorders (JDP-LCD) in August 2005. She was appointed to the JDP-LCD Executive Committee in 2012 and took over as the SDSU Director for the JDP-LCD in 2014. Since 2016, she also served as the Director of the School of Speech, Language, and Hearing Sciences (SLHS).
Her research with language- impaired and - unimpaired adults and children (aphasia, DLD) examines the nature of the information used during on- going language and cognitive processing, how and when different information sources are integrated, and the neurological basis of these processes. She uses multiple methodological approaches including brain imaging, ERPs, eye- tracking, and behavioral research.
Dr. Love has served on numerous NIH grant review panels and has obtained ~$6 million in funding for her research from federal (National Institutes of Health: National Institute on Deafness and other Communication Disorders) and private funding mechanisms. She has >55 peer reviewed publications and has >150 presentations of her work at national and international conference venues. Through her time in academia, she has supervised over 200 graduate and undergraduate students.
Dr. Love's contributions at SDSU have been recognized through multiple awards including the 2019 SDSU Alumni Award for Outstanding Faculty Contributions, Outstanding Faculty of the Year, recognized by an SLHS Outstanding Undergraduate Student and by an Outstanding SLHS Graduate Student, Quest for the Best Honoree, Outstanding Graduate Advisor along with others.