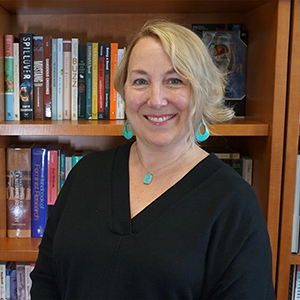 College of Arts & Letters
Monica Casper, Dean
A native of Chicago, Monica J. Casper is Dean of the College of Arts and Letters and Professor of Sociology. She received her BA in sociology from the University of Chicago, her PhD in sociology from the University of California, San Francisco, and completed a postdoctoral fellowship in biomedical ethics at Stanford University. Prior to joining the Aztec family, she was Associate Dean for Faculty Affairs and Inclusion and Professor of Gender and Women's Studies in the College of Social and Behavioral Sciences at the University of Arizona.
An expert on women's health, Dr. Casper has published several books, including the award-winning The Making of the Unborn Patient: A Social Anatomy of Fetal Surgery; Missing Bodies: The Politics of Visibility; The Body: Social and Cultural Dissections; and Critical Trauma Studies: Understanding Violence, Conflict, and Memory in Everyday Life. Her current manuscript, Babylost: An Infant Mortality Alphabet Book, addresses racial politics of infant and maternal mortality in the U.S. Additional projects focus on domestic violence and traumatic brain injury (with Daniel Morrison) and global biopolitics of elephant trauma and sanctuary in the Anthropocene.
With longstanding and deep-rooted concern for issues related to violence against women, Dr. Casper co-founded the Consortium on Gender-Based Violence at the University of Arizona, securing a $1.5 million keystone gift to do so. She continues to be involved in the Consortium as both co-founder and member of the Advisory Board. Related to this work, Dr. Casper is invested in learning more about the impact of violence on student retention—an understudied yet urgent research topic.
A committed champion of other scholars' work, Dr. Casper is founding co-editor of the NYU Press book series "Biopolitics: Medicine, Technoscience, and Health in the 21st Century" and founding co-editor of the UA Press Book Series, "The Feminist Wire Books: Connecting Feminisms, Race, and Social Justice," as well as a managing editor of The Feminist Wire and publisher of TRIVIA: Voices of Feminism. She is also a creative writer, with essays and stories in Mojave River Review, Moonsick Magazine, and The Linnet's Wings, among other literary journals.
Recently, she melded her love of gardening with her scholarly expertise in trauma to launch Gardening Through Grief, a site devoted to examining the relationship between gardening, grief, and loss. The first Call for Submissions focuses on "Pandemic."
Last, Dr. Casper is a proud mom to two daughters, Macy (18) and Delaney (16). And though they appear on this final line of her biography, they are first in her heart; the two beautiful reasons why she works so hard to craft a better world.